Veröffentlichen Sie Inhalte in Ihrem öffentlichen Profil
Veröffentlichen Sie ganz einfach Bilder, Audio, Video, Lehrmaterialien, Tutorials, Präsentationen, Bücher, Dokumente und andere Sammlungen
Customize your profile page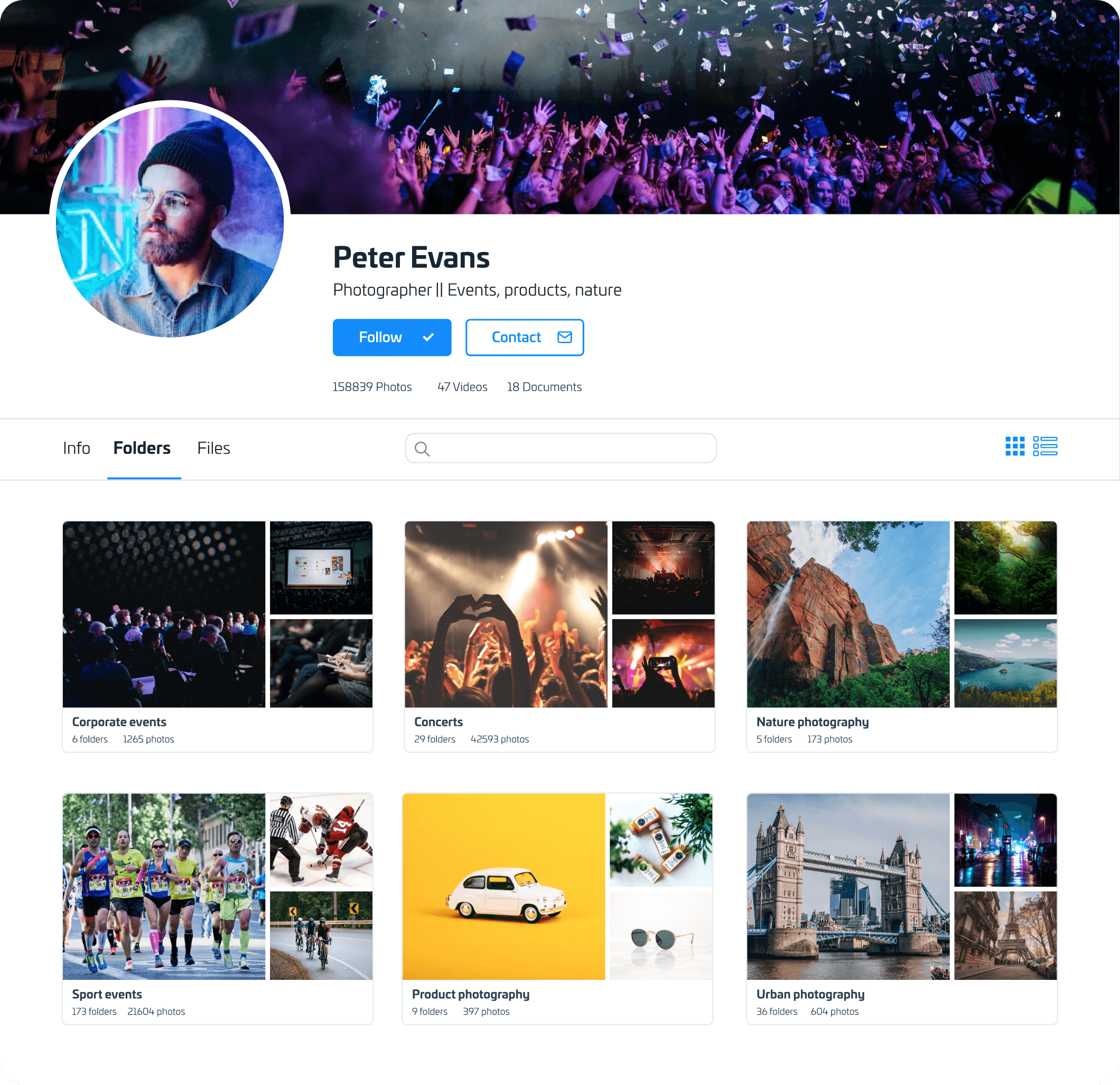 Wie geht das?
Personalize your public profile page
Die öffentliche Profilseite ist Ihr Katalog, in dem Besucher auf Ihre öffentlichen Inhalte zugreifen können – kostenlos oder kostenpflichtig.
Customize your profile page to suit your style and purpose! Add a description and profile picture or logo, choose colors and a background image.
Upload files to your account
Share and collect pictures and videos from events.
If the events take place again, this will be a great place where the visitor can view the content from both current and earlier events.
Use your public profile as your portfolio or store.
Sort content so that it\'s easy for a visitor to browse - create folders by categories, dates, file types.
Post informative or educational content.
Those can be training or conference materials, various documents (descriptions, licenses, drawings, technical projects, etc.). If necessary, you can grant access only to a specific group of users with password access.
Features and benefits
Publish pictures from events
Share sports, culture, etc. event pictures. Visitors to the event will be able to view and download pictures that interest them. Read more about publishing images with
recognition technology here
.
Sell ​​self-created pictures, videos, music, study materials and other content that would be useful to an audience. If the content you sell is high-quality and valuable, you will be able to purchase it not only in your profile, but also in
the shared "Library" file catalog
.
Receive files from others
Enable "Send" and receive files from profile visitors. If a visitor sends the content to you using the file upload form, you\'ll be able to easily receive, store, and manage all the recieved files in one place.
Decide how you want to share your content. You have the opportunity to give completely free access to your files, just allow to view, but not allow to download, set a password or price. You\'re in control of your content - change settings for an entire folder or for an individual file at any time.
An event or online training requires a registration? Activate the "Register" option and easily collect data from potential visitors.
Keep track of your content statistics
View, download, and voting statistics are available for files.
Choose a plan and start creating your own public profile page
5 GB permanenter privater Cloud-Speicher
Basic
Anmelden
Kostenloser
5GB data storage
Store and share documents
Konvertieren von Dokumenten in PDF
Virenschutz
Sichern Sie Ihre Geräte
500GB Personal
Annual payment: 29,90$
Grundlegende Kontolimits
Verwenden Sie mobile Apps
Synchronisationsprogramme
Personalized profile page
Speichern oder teilen Sie Ihre Arbeit
2 TB und PRO-Funktionen
Annual payment: 69$
Keine Werbung! 20 GB Dateien
30 Tage Wiederherstellung
Passwörter für Links festlegen
Bearbeiten von Dokumenten
Verwalten Sie Teambenutzer und arbeiten Sie privat zusammen
Kleinbetrieb
4 Benutzer enthalten
Annual payment: 190$ + VAT
All Pro features
Viele Kontonutzer
2FA und Sicherheitskontrollen
Technischer Support für Unternehmen