Create a store for your digital content
Sell photos, music, videos, tutorials, books, courses and more
Get started
Start sales in 4 easy steps
Upload your work
Add description and price
---
Design look and Share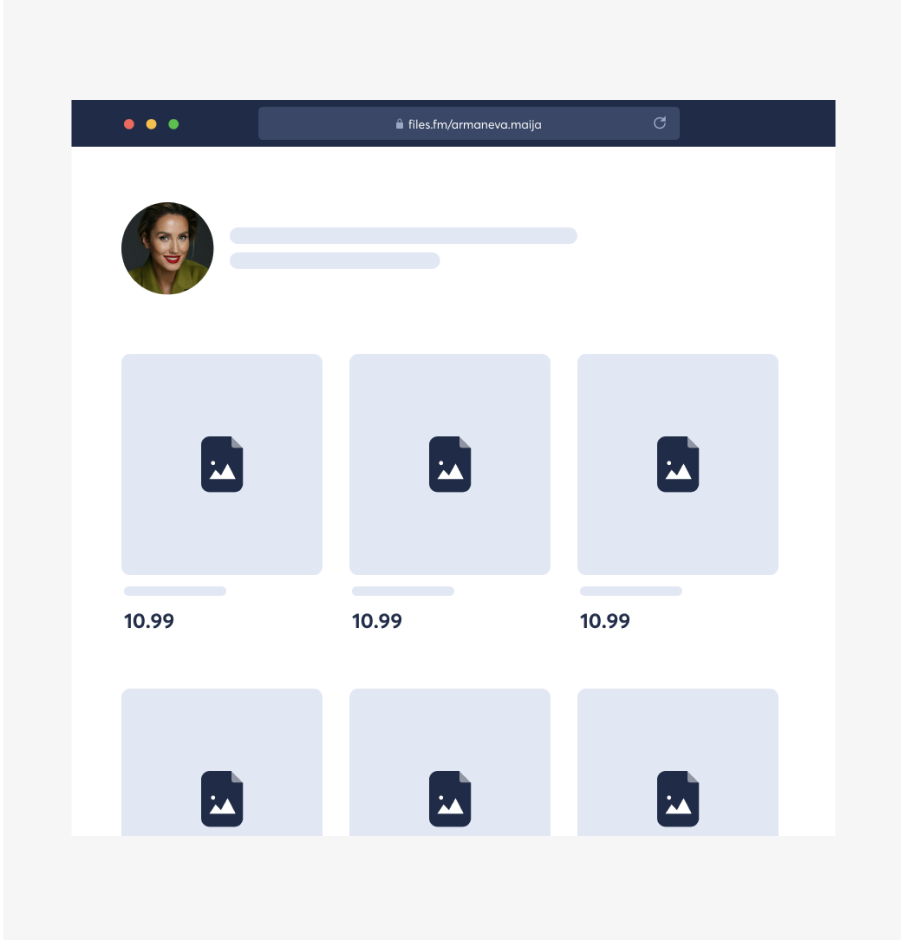 Sell and receive payments
Sell in 5 ways
With a private product link
Send a private purchase link and get paid
Via your public profile
Publish products in your store
On your social media
Share the link on your social networks
On your website
Integrate files.fm within your existing website and start selling instantly.
On Files.fm marketplace
Design Your products and get discovered by our community
No hidden fees
We take 10% commission to support the platform and client pays 0.29 payment fee.
This is how you make money
Get started free
* Client pays for transaction 0.29 €
Seller account plans
Basic
€0/mo
5GB cloud storage
Your public store
Payments
---
Pro
€4,9/mo
10GB file size supported
250GB cloud storage
Custom branding
Password protection
Access control
Unlimited data traffic
Embedd content on websites
No ads
---
Business
€10/mo
All Pro features
Transfer up to 30GB
Multiple users
File versioning control
180 day file recovery
Two Factor Authentication security
Invoicing
File Sync and Automation
Business sales support
Top answers about features
Payments
Integrierte VISA und Mastercard-Zahlungen. Kein Setup erforderlich.
Reports
Reports are available for all transactions, views, purchases and download statistics.
Beliebiger Inhaltstyp
Wir unterstützen alle Dateiformate und -größen: Foto, Video, Audio, Dokumente, Präsentationen, Bücher, Vektoren und andere Typen.
Discoverable
Wir können Ihre Produkte Service-Nutzern auf unserem Content-Marktplatz präsentieren!
Passives Einkommen
Richten Sie Ihren Shop ein, veröffentlichen Sie nützliche Inhalte, beschreiben Sie sie und verdienen Sie rund um die Uhr von überall!
Geldauszahlungen
Verkäufe, Rechnungen und Kundendaten werden für jeden Verkauf auf Ihrem Konto aufgeführt. Sie fordern Geldauszahlungen auf das IBAN-Bankkonto oder Paypal an.
Ansichten oder Downloads
Verkaufen Sie Ansichten, Hörer, Downloads oder Live-Übertragungen. Der Inhalt ist sofort nach Zahlungseingang auf dem Konto des Käufers verfügbar.
Multilanguage
Die Benutzeroberfläche ist in Englisch, Spanisch, Deutsch und Russisch verfügbar, sodass Sie international verkaufen können!
Suche & Entdeckung
Inhalte können markiert, beschrieben und suchmaschinenfreundlich gestaltet werden. Benutzer können Ihre Inhalte in der Bibliothek finden.
Erstellen Sie ein Konto, laden Sie Inhalte hoch und richten Sie Ihren Online-Shop ein!
---
Familiarize yourself with the terms and legal details