Start sales in 4 easy steps
Upload your work
Add description and price
---
Add your design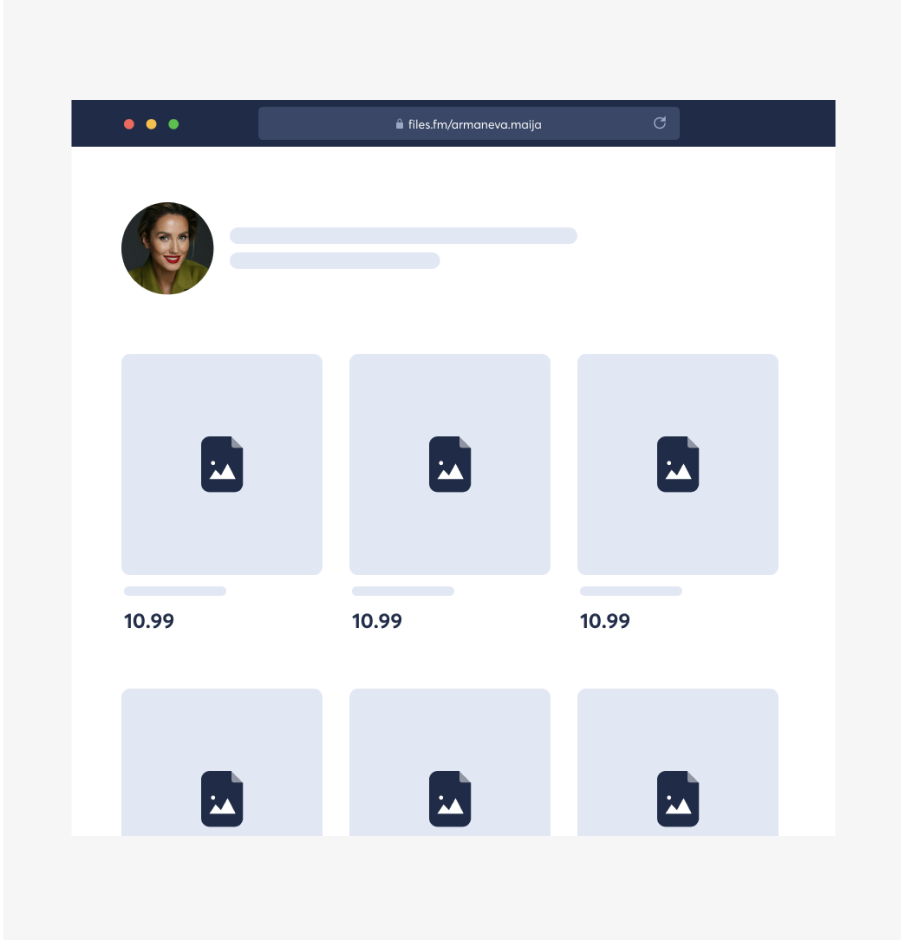 Sell and receive payments
Sell in 5 ways
With a private product link
Send a private purchase link and get paid
Via your public profile
Publish products in your store
On your social media
Share the link on your social networks
On your website
Integrate files.fm within your existing website and start selling instantly.
On Files.fm marketplace
Design Your products and get discovered by our community
No hidden fees
We take 10% commission to support the platform and client pays 0.29 payment fee.
This is how you make money
Get started free
* Client pays for transaction 0.29 $
Datenpläne
Basic
$0/mo
5 GB privater permanenter Speicher
Virenschutz
Privates sicheres Teilen nur mit bestimmten Benutzern
Dateien empfangen
Profile page & personalization
Konvertieren von Dokumenten in PDF
Konvertieren Sie Videos in MP4
---
Pro
$6,9/mo
Keine Werbung
1TB Cloud-Speicher
20 GB Dateigröße unterstützt
Undelete 30 days
Passwörter für Links festlegen
Zugangskontrolle
Unbegrenzter P2P-Datenverkehr
Online-Dokumentenbearbeitung
---
Business
$19/mo
Alle Pro-Funktionen
Übertragen Sie bis zu 200GB
Mehrere Benutzer +4/m
Dateiversionskontrolle
Dateiwiederherstellung bis zu 5 Jahre
2FA und andere Sicherheitseinstellungen
Dateisynchronisierung und Automatisierung
Technischer Support für Unternehmen
Enterprise
ab $99/Monat
E-Signing, Dokumentenverwaltung und -vorlagen, externe und interne Benutzergruppenverwaltung, verbesserte Sicherheit beim Datenaustausch.
Kontaktieren
Top answers about features
Payments
Integrierte VISA und Mastercard-Zahlungen. Kein Setup erforderlich.
Reports
Reports are available for all transactions, views, purchases and download statistics.
Beliebiger Inhaltstyp
Wir unterstützen alle Dateiformate und -größen: Foto, Video, Audio, Dokumente, Präsentationen, Bücher, Vektoren und andere Typen.
Discoverable
Wir können Ihre Produkte Service-Nutzern auf unserem Content-Marktplatz präsentieren!
Passives Einkommen
Richten Sie Ihren Shop ein, veröffentlichen Sie nützliche Inhalte, beschreiben Sie sie und verdienen Sie rund um die Uhr von überall!
Geldauszahlungen
Verkäufe, Rechnungen und Kundendaten werden für jeden Verkauf auf Ihrem Konto aufgeführt. Sie fordern Geldauszahlungen auf das IBAN-Bankkonto oder Paypal an.
Ansichten oder Downloads
Verkaufen Sie Ansichten, Hörer, Downloads oder Live-Übertragungen. Der Inhalt ist sofort nach Zahlungseingang auf dem Konto des Käufers verfügbar.
Multilanguage
Die Benutzeroberfläche ist in Englisch, Spanisch, Deutsch und Russisch verfügbar, sodass Sie international verkaufen können!
Suche & Entdeckung
Inhalte können markiert, beschrieben und suchmaschinenfreundlich gestaltet werden. Benutzer können Ihre Inhalte in der Bibliothek finden.
Erstellen Sie ein Konto, laden Sie Inhalte hoch und richten Sie Ihren Online-Shop ein!
---
Machen Sie sich mit den Bedingungen und rechtlichen Details vertraut